Pharmaceutical Business in Turkey
Market Overview
Turkey has a GDP of USD 857 billion (2016-Current Prices) and is the 17 the largest economy in the global growth ranking behind Mexico and Indonesia and larger than Netherlands and Switzerland. In 2016, despite the slowdown in growth rate of OECD members (average 1.7%), Turkey's economy grew by 2.6 percent. It has an approximately 80 million population, and the health care provision is centralised with health care reforms recently.
Pharmaceutical Industry in Turkey
The Turkish market for pharmaceuticals reached a size of TRY 20.67 billion in 2016 (around USD 6.8 billion), growing by 16.5 percent over 2015. Unit sales rose by 4.7 percent over the same period, reaching 2.23 billion units.
According to the IMS and Technavio reports, Turkey is one of the top 20 "pharmerging" countries.
The Turkish pharmaceuticals market is expected to grow by 11 percent in TRY terms annually between 2016-2025, with an increase in per capita pharmaceutical sales from USD 97 in 2015 to USD 128 by 2025.
There are approximately 496 pharmaceutical entities operating in the sector. Among the 67 manufacturing facilities that meet international standards, 12 are owned by multinational companies. Of the total pharmaceutical companies, 68% has a multinational origin.
There is 12 pharmaceutical raw material producing facilities in Turkey, three of which are owned by multinational companies.
Approximately 31,000 people are employed in the pharmaceuticals sector, and more than 11,500 products are produced.
Regulations in the sector are in line with the EU directives.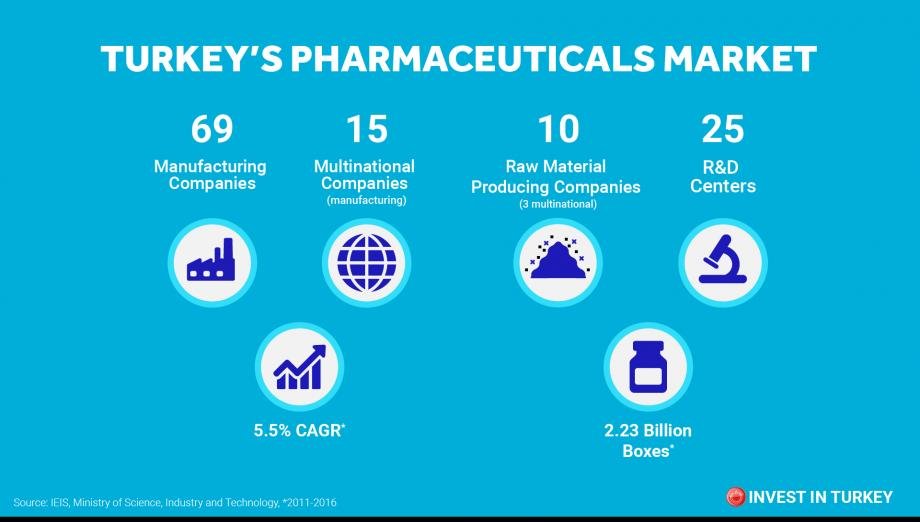 Opportunities for UK companies
There is a growing demand for drugs to treat lifestyle-related diseases such as hypertension, diabetes, and cancer. Turkish companies are looking for overseas technology and experience, which they can license in and further develop. The clinical trials are becoming more commonplace locally, but there is a high demand for international partnerships to conform to the global standards. There is a high demand for both licensing in and out of pharmaceutical products/technology. The share of biotechnology products are increasing; 99 different biotechnology brands are available and 38 of which is a biosimilar.
The share of biotechnological pharmaceuticals has risen by 12.3% in 2016 which constitutes 16.5% of the entire prescription market (around USD 1 billion). Investments towards biotechnological products, oncology products and blood products have been prioritised by the government.
About ECONRA
To unlock the potential of your assets and brands in the most cost-effective and the time efficient way in a changing and challenging environment unknown to you, please contact us. To understand, how long and how much it would cost you to launch in a market where you would gain in return more than you invest, just call us to arrange a preliminary discussion. We can discuss your product's status and the possibility of different regulatory options with a concrete roadmap.
With over 15+ years' experience on more than 100 projects, ECONRA is one of the most experienced providers within the local market and a partner of choice for pharmaceutical companies. ECONRA's availability in the UK and the local market is a huge advantage that all services are combined in one line of contracting.
Take your product from regulatory and financial planning to full-on commercialisation, with expert consultants to guide you through every step of marketing authorisation and market access.